Jacksonville Top Rated Pavers
Driveway Pavers Jacksonville, FL
Looking up paving companies near me to no avail? Search no longer because you've found us – Jacksonville, Pavers Guys. We're the best choice for paver installation, repair, resurfacing and refinishing here in Jacksonville, Florida. We've licensed paver professionals, and it's our mission to give you the best hardscaping service, as well as customer service, we possibly can. This is true concerning all of our clients.
Our staff is the best you'll find for paving in Jacksonville. Our contractors are paver experts who keep up on what's the latest and greatest with pavers, and also what's the latest concerning paver regulations and laws. Our pros work with only top-quality materials because they want to give you the best bang for your buck. Every material is different. You can choose from a vast medley including, but not limited to old Chicago pavers, travertine, brick, cobblestone, concrete, granite and more. Each material needs to be handled differently, and we've acquired that knowledge from serving the people of Jacksonville for many years.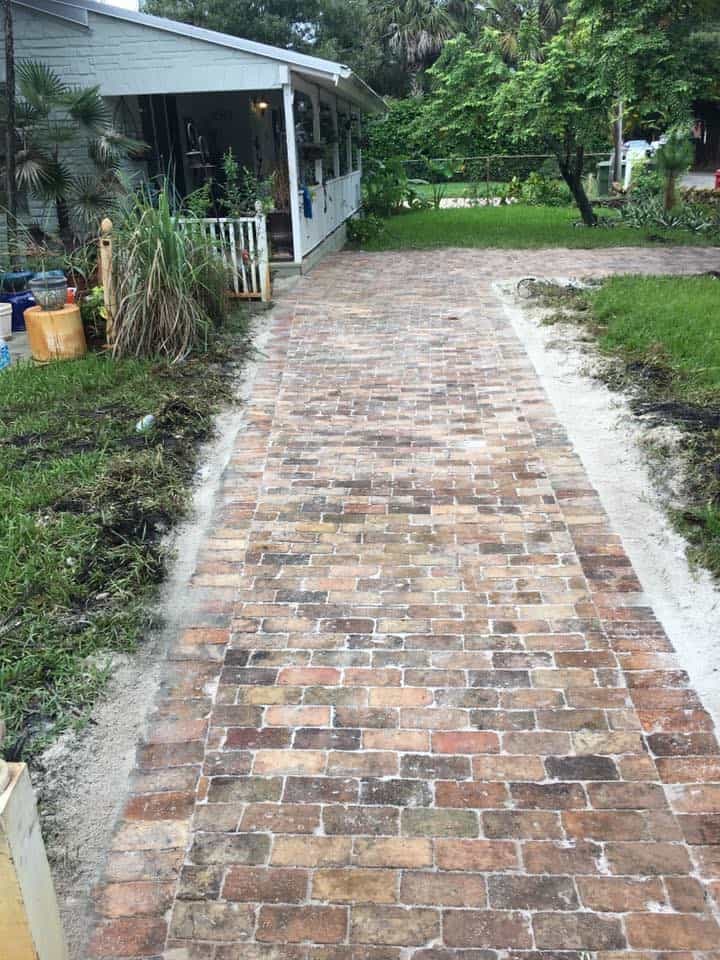 Jacksonville Driveway Paver and Patio Paver Company
The exterior of your home or business will most definitely be livened in a look by a paver installation by our top team. Your soon-to-be driveway could very well 'be' if you go with Jacksonville's best paver contractors. The driveway is often the first impression your property will give to your guests, visitors, or customers. If you don't have one, you're missing out on the effect a new driveway could give. If your driveway isn't helping but rather detracting from the look of your exterior, it's time to get it repaired and back to looking ship shape.
A patio can be a great place for a homeowner to show off what they can do when it comes to design. You want your visitors and guests to know it's your patio just by looking at it. What are you currently showing others about yourself through your patio? Do you even have a patio to show them? Are you showing them a rundown patio in need of repair? Or are you showing them a beautiful space they'll want to keep coming back to? Call the best patio installation and repair team in Jacksonville to make this a reality!
Jacksonville Top Quality Driveway Paving
To be the best paver company in Jacksonville, you've got to start with the best materials. You wouldn't expect to get a really tasty cake if someone baked it using stale flour and week-old strawberries. And a sandcastle with dry sand just isn't going up easily. You wouldn't consider getting the best from these activities, and the same rule applies concerning the use of materials in a paver installation job. We will always make sure that we order the best of materials when it comes to you and your pavers. Our professional contractors won't order any more of a top-quality material than is necessary. That way you won't be overcharged for surplus. We don't make amateur mistakes like this, because we're experts at Orlando paver repair and installation. Call us today for a free quote and see what we can do.