Jacksonville Patio Paver Company
A swimming pool deck is essential for any swimming pool area. Our crew of expert pool decking contractors can provide you with a free estimate for a brand new pool deck with an option of different pavers including marble pool pavers, travertine pool deck, concrete pavers and brick pavers. We love natural stone pavers for swimming pool decks. Paver pool decks are typically the longest lasting, most durable and least slippery type of swimming pool deck. Call us for your new Jacksonville Paver Pool Deck installation today and we would be happy to provide you with a free quote!
Summer kitchens are an excellent addition to your outdoor patio area. Adding marble pavers or travertine pavers asd pool pavers to your brand new pool deck can give your house the pool oasis of your dreams. If you are ready to transform your backyard in Jacksonville Florida Pavers Guys of Jacksonville is the perfect choice! Call use today for your stone hardscape project or masonry needs.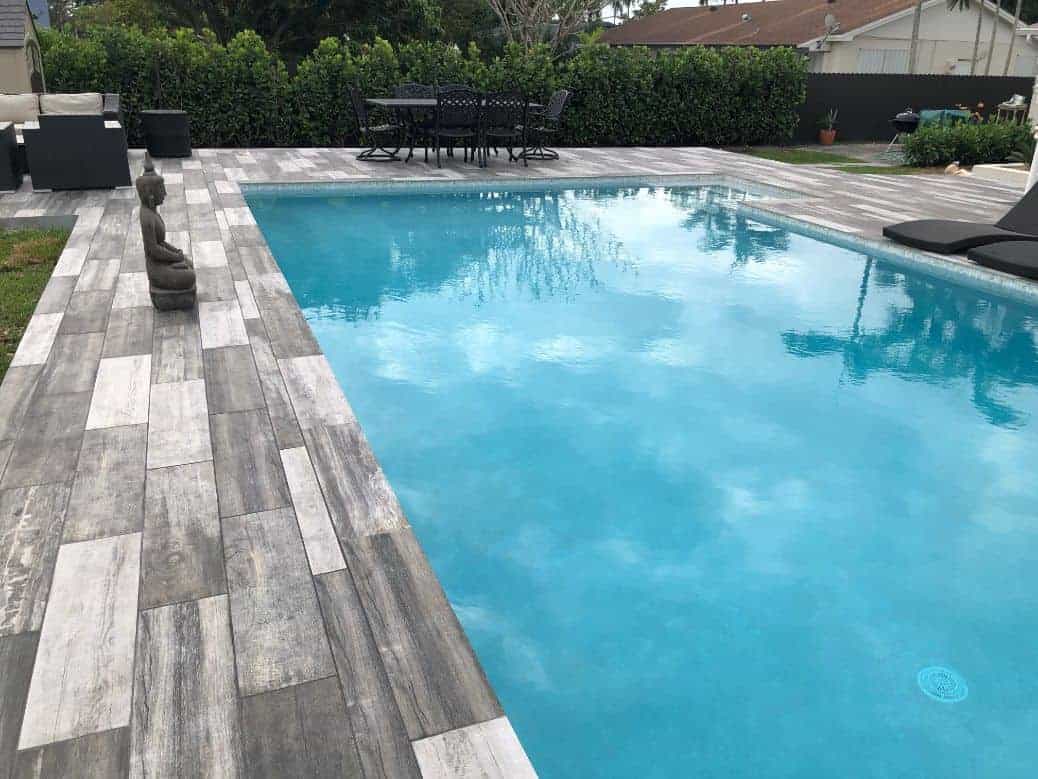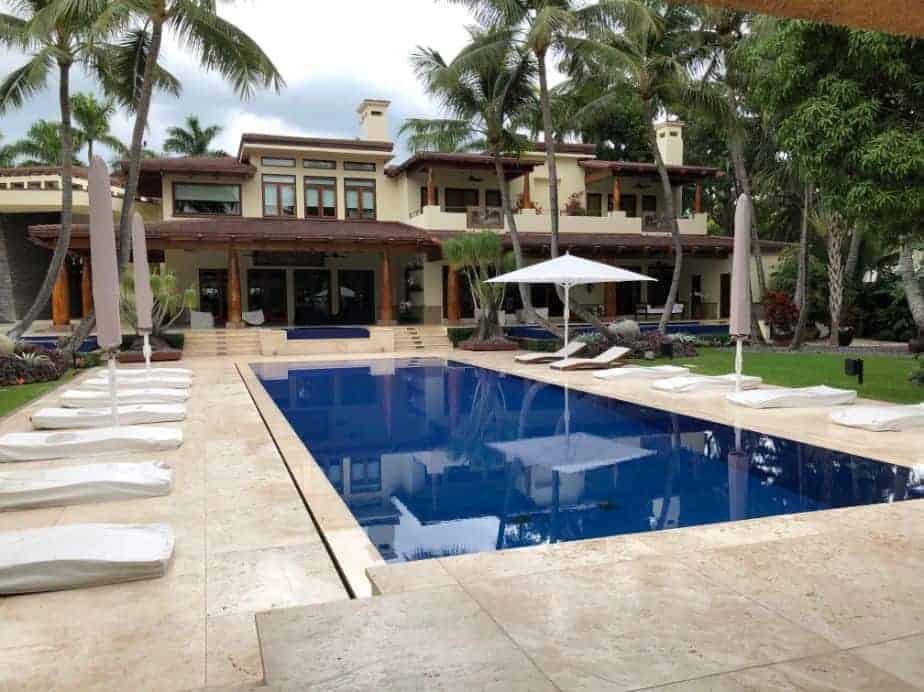 New Pool Pavers Installed
Pool deck pavers is a great option for your pool patio area. We are experienced in all kinds of hardscape materials that can bring beauty to your pool area. The most exquisite choice we feel is natural stone pool pavers. Many homeowners these days choose marble pool deck pavers ad they are beautiful, modern and extremely durable. We like to do sandblasted marble pavers to is helps to keep the pool deck less slippery when wet. Another great natural stone paver options for pool decking is travertine. Travertine pool decks are sale sandblasted so they are not slippery when the pool area or patio are is wet. We feel that travertine is a very nice medium between modern and tradition.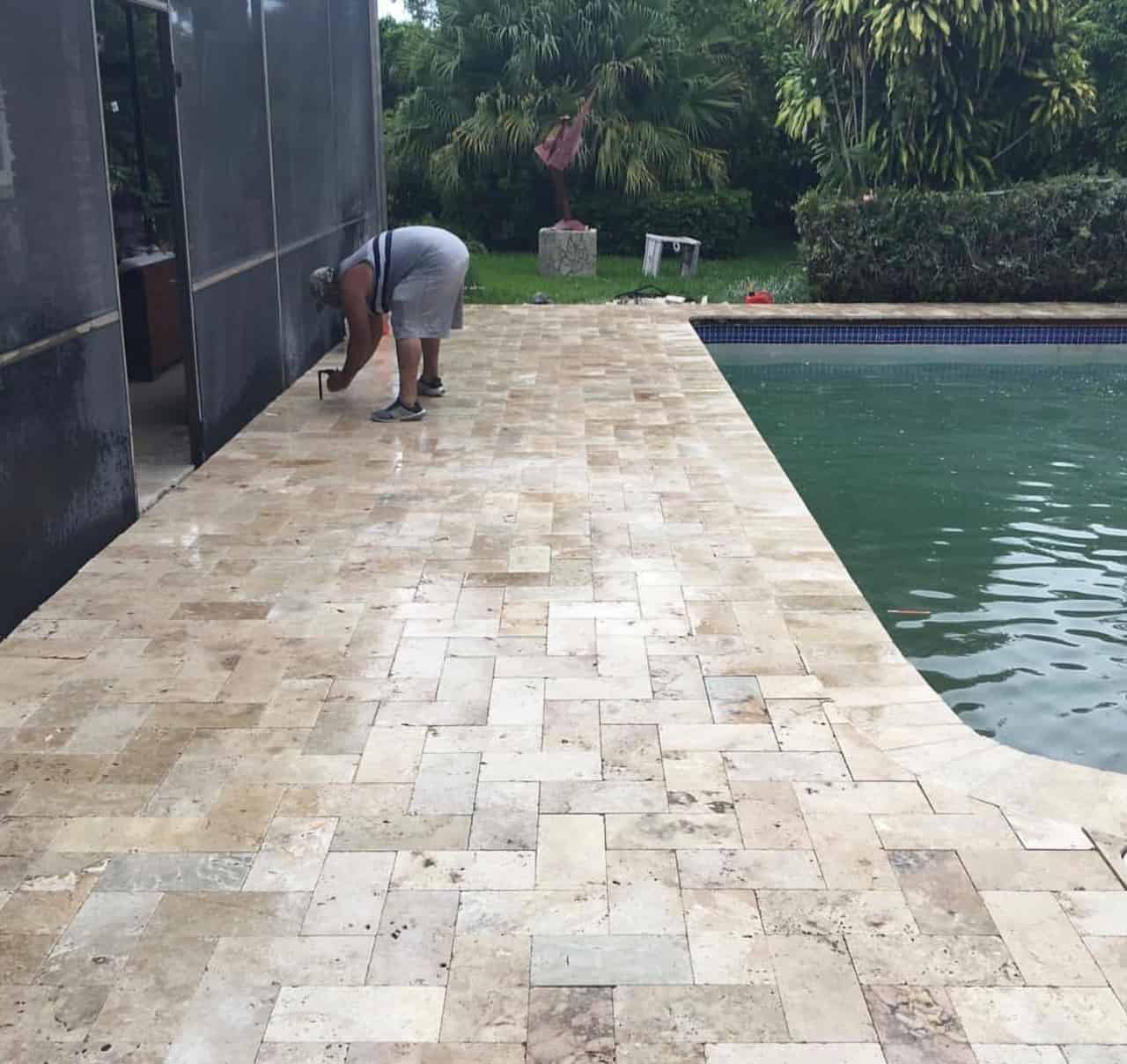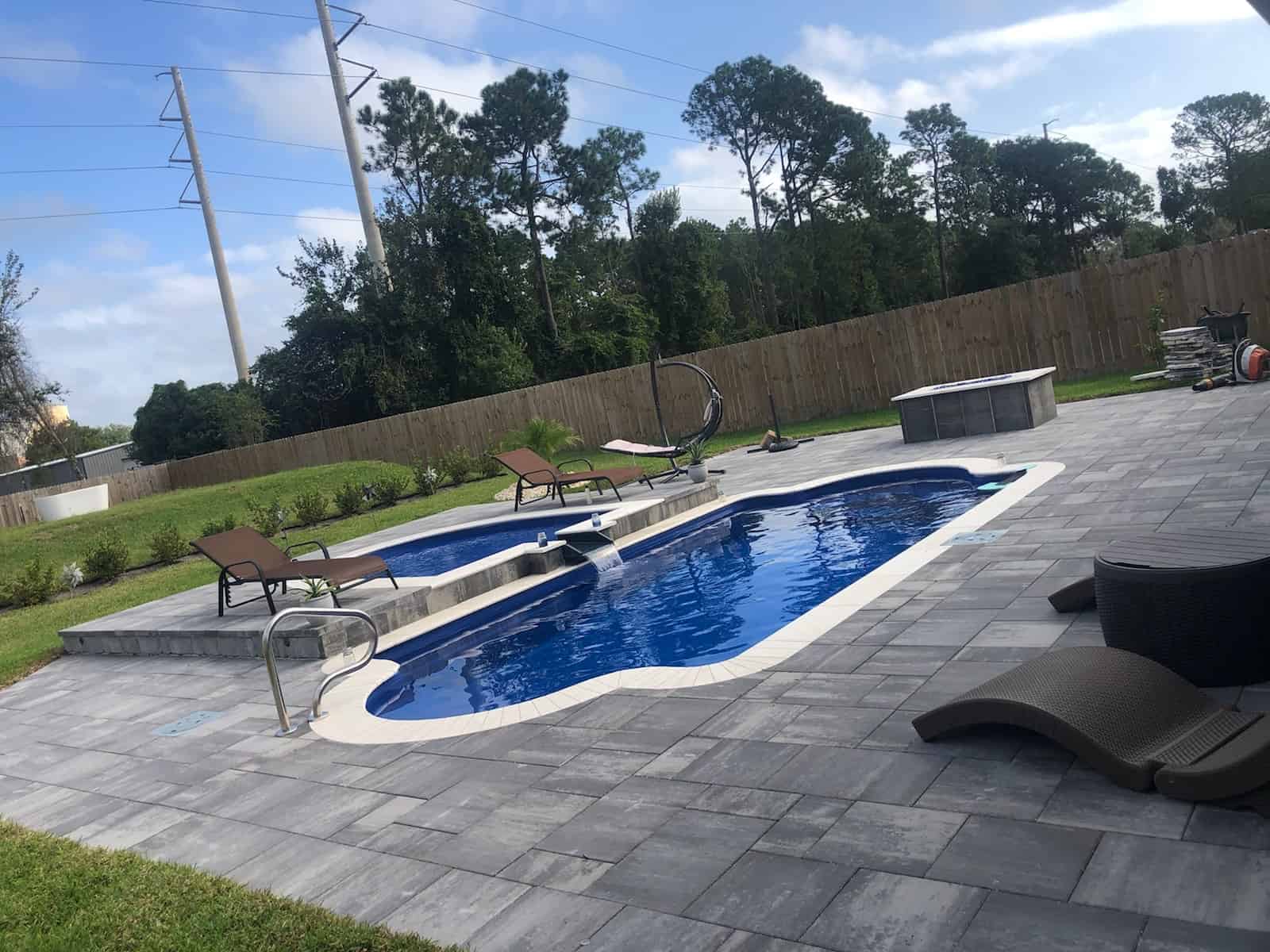 Pool Deck Pavers Jacksonville
What kind of hardscape material should I use for my pool deck?
We get this questions a lot. Typically we are seeing homeowners and commercial property owners opt for natural stone pavers or concrete pavers. We are not seeing, if at all, owners opt for the traditional old style red brick pavers. They can be rough around the pool edge.
We can also help you select custom pavers for your pool patio area. Our team of design experts can make sure it matches throughout and flows with your property! Of course no pool patio area would be complete without matching paver walkways, fire pit and custom outdoor kitchen! The good news it we can do it all from paver designs and selection of the most beautiful stones. We can help you create an attractive outdoor paver installation with the right type of materials which will be easy to maintain!
If you already have a swimming pool patio area and you are looking for skilled experts to help renew the pool area we are the experts for you! We can carefully remove the pool edge, pavers, and anything else needed. Doing a pool deck resurfacing is a great way to revamp you backyard area!
Of your we can at fire pits to the pool patio area so you can enjoy the outdoor space year round!
Jacksonville Pool Paver Installation
How to choose the right pool pavers?
It really does come down to personal preference and the color scheme of your property. We typically work with sandblasted natural stone which is easy to maintain even in harsh weather conditions of heat and rain in Jacksonville Florida. There are so many choices of color when it comes to natural stone pavers
We have made beautiful pool deck areas with marble, travertine, concrete pavers and brick pavers.
We have assisted jacksonville owners with countless designs and to pick the perfect material for their dream hardscape and pool patio area.
When to install pool decking?
We feel the best time to install the pool deck pavers is after the swimming pool is finished with concrete. The diamond brite can come before or after, but we advise clients to not install their pool decking before the shotcrete is applied for the pool. This is because the shotcrete can be very messy and concrete is very difficult to get off all types of pavers.
For any questions about Pool Pavers in Jacksonville Florida call the Paveras Guys @ 904-295-1505